Teachers are to produce this latest by Monday 19th April, 2021 – GES
News coming in from the various District Examination officers has it that, Ghana Education Service has instructed all Heads of Basic Schools to disseminate important information to teachers with Diploma in Basic Education qualification (DBE).
Headteachers have been asked to inform Diploma teachers who have applied to pursue a degree program to write for permission. According to Ghana Education Service, their application for permission letter should the various District Education Office not later than Monday 19th April 2021.
Ghana Education has a policy that states that a college of education graduate can only go for further studies after serving not less than three years.
The permission according to sources, would enable Ghana Education Service to keep records of those undertaking further studies in order to prevent future tussle over upgrading.
The directive goes on to say that teachers who fail to act accordingly would have themselves to blame for any adversity.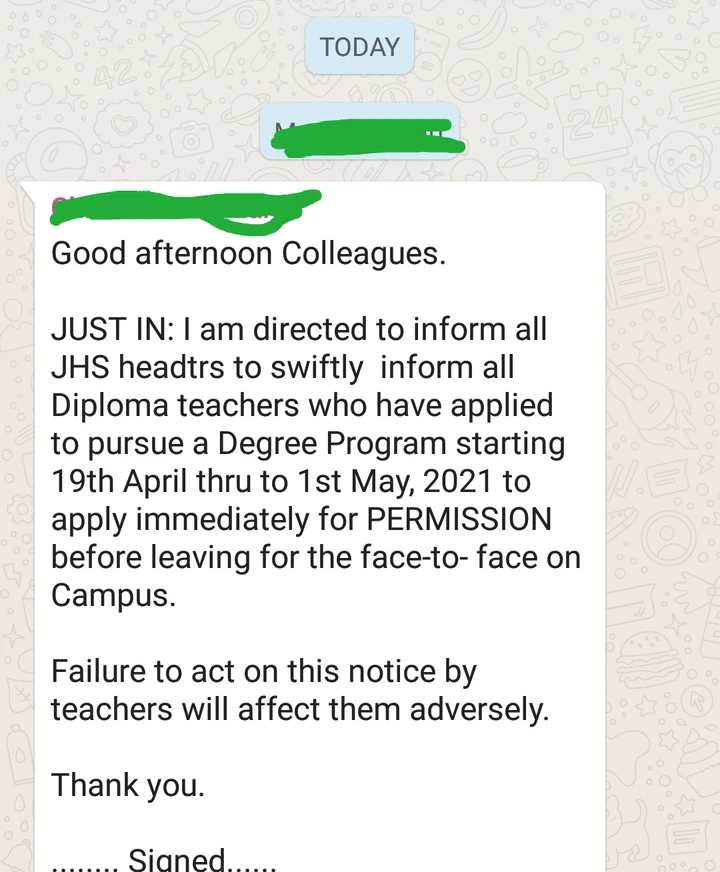 This last-ditch notice could create problems for the teachers as they are to report to their respective campuses on Monday 19th April 2021.
This is the fourth time Ghana Education Service is seeking different kinds of information from teachers in a space of one week. However, teachers have very limited time to act.